Just back from the Barcelona Grand Prix
I got back yesterday from Barcelona after going with
Diego
to watch the Barcelona F1 Grand Prix. We were really lucky actually as we didn't pay for the tickets....Diego won them! 500 Euros worth of tickets, pretty cool hey?
So we did a "planes, trains and automobiles" routine and drove up to Granada in the morning, got a flight to Barcelona (changing in Palma de Mallorca), taxi to hotel, then the train into Barcelona city centre for some tapas and drinks.
To be honest we were shattered by the time we got to Barcelona so headed back the hotel early to make sure we got up extra early to get to the circuit. They were expecting 130,000 people to attend so we thought it might get a little busy....actually it was A LOT busy.
Anyway, up at 6:30 on the Sunday and got the train to the circuit, which was already packed. Sat in the heat getting burnt but what a great atmosphere. Fantastic experience.
We had to get the flight back that same evening so our challenge was to exit the circuit as quickly as possible. We were a little lucky that Alonso broke down half way through the race and quite a few upset fans left the circuit early.
Here's me (I'm the one with the fat face in the Ferrari gear!!) enjoying the race: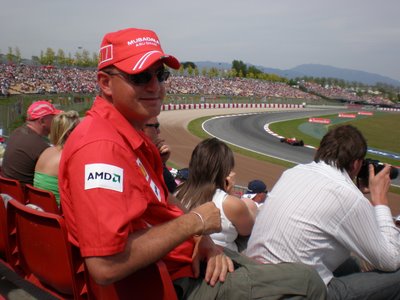 We rushed out at the end and managed to get the train and the flight back on time.
A hugely tiring weekend but well worth it. I think next time we'll go for a bit longer though!